R.G.STAFFORD
VIDEO EDITING | PHOTOGRAPHY | ONLINE MEDIA
Do you love shooting for YouTube but hate editing and post production? Why not let me handle those for you?
Want to offer video on your website but feel overwhelmed by the technical side once footage is in the camera?
Need existing archive film or video material prepared for the web, YouTube, Facebook or even a DVD?
About me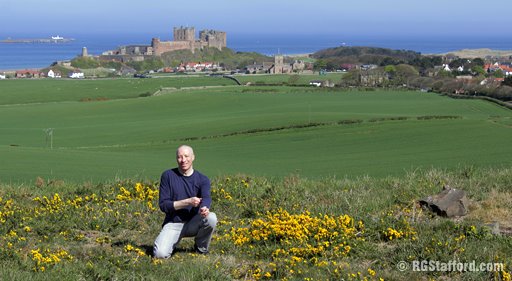 I've been editing for 40 years (yes I started young -- as a teenager!). Firstly on film, then videotape and digital.
I worked as a cameraman and video editor for the fire service, making training videos. For many years I taught low-budget video production to adults.
I was the features editor of a national video-making magazine here in the UK and freelanced for that and others in the video and photography sector for 15 years. I reviewed equipment and wrote columns and interview features, but mainly specialised in "how to do it" technique features. I've had many hundreds of articles and more than one thousand photographs published for payment in national UK magazines.
Increasingly over the last 20 years my work has been online, often producing short videos for the web: interviews, news items, events, repackaged archive content, wildlife.
I love collaborating with people and creating content. Whether you need a simple low cost/fast turnaround "tidy up" and encode to MP4 for YouTube, with a compelling thumbnail, or something a bit more elaborate... If I can help, get in touch...
Get in touch
Contact me above or you can find me on Upwork here (you need to log in).
What can I do for you?
Video editing: from a simple tidy up to something more sophisticated; cutting; titles with "news style" animation and graphics, subtitles; photo sequences; levels and colour balance; selective blurring (to hide people or brand names); slow-motion or speed up, convert to timelapse; import of archive material such as DVD and some tape formats and the conversion of digital video; audio track building and mixing (effects, narration and music), audio/music replacement; encode ready for a DVD, YouTube or the formats you need for an HTML5 player on your website.
Graphics: frame grabs or fun animated GIFS from your video - text can be added; "poster" images and eyecatching thumbnails for YouTube.
Photographic: scanning; cropping; file conversion; levels and colour correction; spotting/retouching; combining of images; addition of text or branding; preparation for the web.
Audio: cutting, mixing, encoding and conversion; transfer from audio cassette.
Video production: lighting; camera; direction (please note I do not drive).
Journalism: research and interviewing (including on video or audio); written features with photographs and/or video clips.
Books: copywriting, editing and layout.
Photography.